Research Highlight

Open Access
Coupling Modeling for Functional Surface of Electronic Equipment
Chinese Journal of Mechanical Engineering
2017
30:125
High performance electromechanical equipment is widely used in various fields, such as national defense, industry and so on [1]. In addition, the technical level of high performance electromechanical equipment is the embodiment of the national level of science and technology. There are two types of complex electromechanical equipment. One of them belongs to traditional machinery, in which the electronic information technology is used to enhance the mechanical performance by making the system more sophisticated, more efficient and more intelligent, such as numerical control machine. The other belongs to electronic equipment, in which the mechanics is used to enhance its electrical performance, such as microwave antenna, radome and so on.
At present, the electronic equipment as the representation of the second type of electromechanical equipment is utilized in various areas on land, in the sea, in the air and in outer space. There is a class of geometrical shape called functional surface in electronic equipment. It is a complex surface that realizes the specific physical properties. Different from the surface of traditional electromechanical equipment, such as turbine blades, aircraft shape, etc., functional surface is designed to achieve electricity, magnetic, light, heat and other functional characteristics of non-traditional mechanical disciplines.
The typical functional surfaces include reflector antenna, active phased array antenna, radome and so on. There is a nonlinear relationship (Fig.
1
) between mechanical factors and electrical performances [
2
], which belongs to the electromechanical coupling issue of functional surfaces. Further study on this issue is helpful to improve the design level of electronic equipment.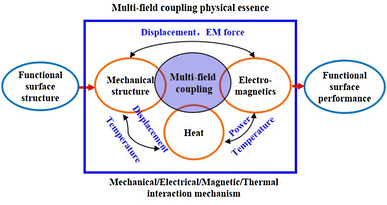 After years of research, key laboratory of electronic equipment structure design of ministry of education has achieved some outstanding achievements on electromechanical coupling issue of functional surfaces, some of which have been applied in practical engineering. In the following, the electromechanical coupling issues and the correspond models for reflector antennas, active phased array antennas and radomes are introduced respectively.
(1)
Key Laboratory of Electronic Equipment Structure Design of Ministry of Education, Xidian University, Xi'an, 710071, China